Sweet Gwendolyn
---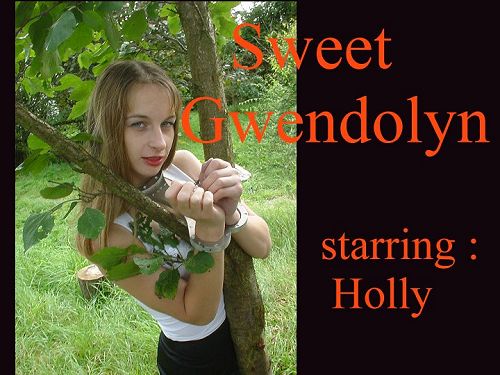 ---
In this video we have put our model Holly in a big variety of bondage situations . After she has made the presentation of the video she is restrained with the futuristic bilboes she has already experienced in the first video "Bondage fantasies". We have then a lot of outdoor scenes with Martin's Rigid Fiddles , some scenes with regular police handcuffs , the Clejuso Heavy Weight handcuffs ...
Then you see Holly as chained slave girl , heavily shackled with the fine equipment produced by Steel-Bondage ( which you can order here ) . Her hands are cuffed behind her back , her tiny ankles are shackled and she has to wear a heavy iron collar . Nevertheless she succeeds in opening the door and sneaking away .

She is then tied up with ropes in a very strict hogtie and she is cuffed hand and feet to a wooden platform . Later we see her wearing a "Martin" collar and her hands are cuffed behind with Martin's Rigid Handcuffs .
Follows some more scenes with rope bondage ( mostly outdoors ) where she is subjected to a strappado and a ball-tie . At the end she is tied to a tree and to a post .
available as DVD

---
This video has a total playing time of 1 hour and 8 minutes
Price : 20 EURO


To order the DVD mail me
---
---
---