The Escape Artist
+
The Bondage Model
---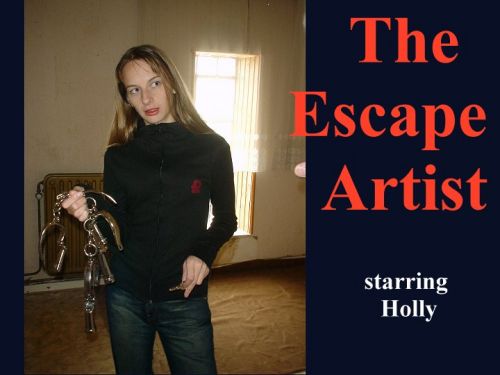 ---
Holly likes to make a career as an escape artist . Already she imagines herself as Miss Houdini , but she still has a lot of tricks to learn . She asks her friend to put her into handcuffs , but she does not always succeed in freeing herself .
Then she asks to be tied up with rope . First it is very easy to get out , but when her friend gains some more experience in ropework , it gets more and more difficult for her . She ends up hogtied on top of a table with no chance of getting free .
She orders some more cuffs and legirons from the Rigidcuff Online Shop and as soon as she receives her parcel she asks her friend to chain her up again in different bondage positions and she tries ( not always succesfully ) to get out of the cuffs .....
In this video you see our lovely model Holly in various strict restraints ( handcuffs, legirons, rope ) . We have imagined a realistic storyline with dialogues, not just the usual succession of unrelated bondage situations as in most bondage videos which are to be found on the market
---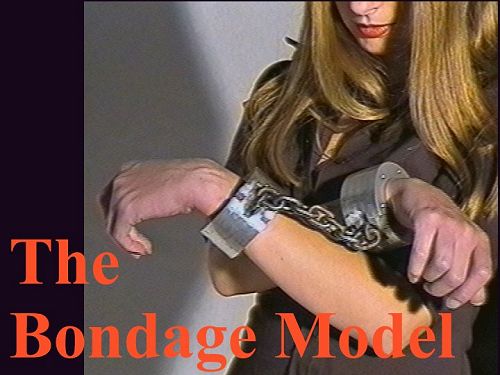 Holly has a job as model for a photographer who is taking a series of pictures for the new Rigidcuff catalogue. She wears the very thick and heavy handcuffs , different types of fiddles which enclose both her slender hands and her neck , a rigid handcuff with spreader bar , then finally she is put in the "Stock D" , a very nasty device inspired by the medieval torture chambers . In this restraint her wrists and her ankles are completely immobilized .
Unfortunately for her , the photographer gets somewhat distracted by the recurring ringing of his cellular phone .....


available as DVD

---
This DVD has a total playing time of 1 hour
("Escape Artist" : 50 min + "Bondage Model" : 10 min)
Price : 20 EURO
( Postage by regular air mail included )





To order the DVD mail me
---
---
---