Ärztin in Not
(The kidnapped doctor)
(Released November 2003)
---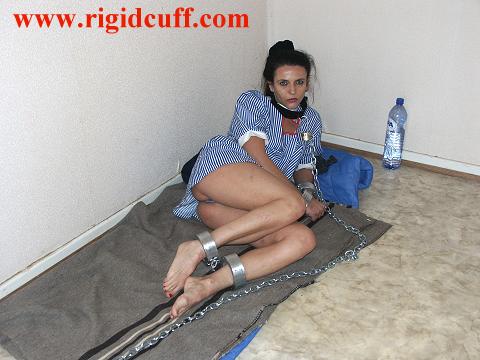 starring Eve from Germany


---

Screenshots from the video
The young doctor (Eve) is kidnapped by a mysterious masked man who obviously receives his orders by phone from someone else .
Eve is handcuffed and brought to an empty appartment where she is chained to the wall . Later the kidnapper orders her to undress and to put on a blue prison dress . She is now cuffed with a handcuff/legiron combination and again chained to the wall .
She succeeds in opening the cuffs with a clothespin , but is surprised by the kidnapper who gives her a striped dress to put on . He now uses heavy Martin Cuffs and legirons to restrain her . Last but not least she is chained to the wall by an iron collar .
A few days later she is released and abandoned on a road - her hands still cuffed behind .
Is this the end of her adventure ??
Amateurs of on-screen cuffing, prison dresses and heavy shackles will love this video , we show also lots of bare feet in cuffs and chains .
The video is followed by some bondage cameos : Eve secured in Martin's Bondage Chair and sitting in the Spreader Bar . Then we see her eating with her hands cuffed in Dutch Lips handcuffs . There is also a short dishwashing scene - with hands cuffed of course .
Finally she is chained in the dungeon with one of Martin's Heavy Collars .
Available as DVD
---
This video has a total playing time of 1 hour
Price : 20 EURO
( Postage by regular air mail included )


---
---